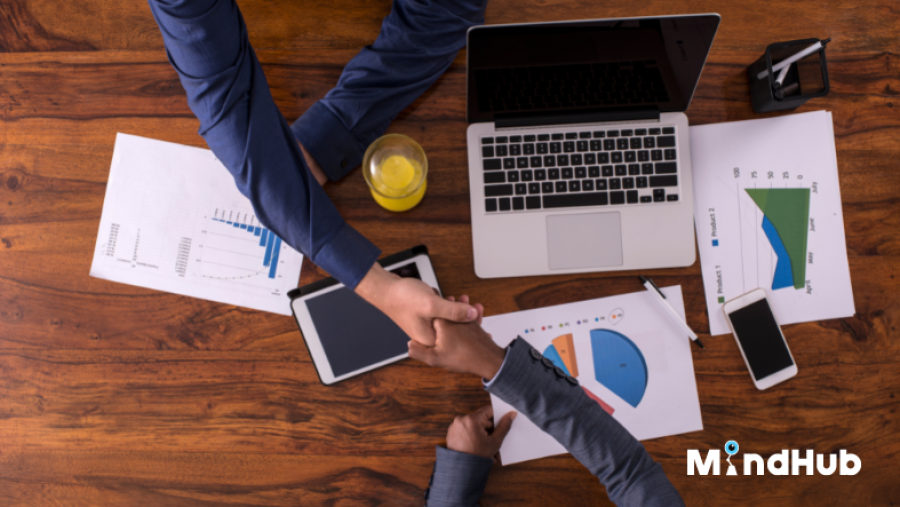 Increasingly, start-up entrepreneurs prefer to choose the franchise business model to get them started, and there are many reasons for it. Franchising is less risky, entrepreneurs get more safety and support, and the investment is worth it. Starting your own business is never an easy task and comes with too many responsibilities and often accompanying problems, but the franchise business model is the perfect solution if you are also a young enthusiast who wants to play it safe. One of the biggest advantages of franchising is that franchisors offer support, training, and ongoing assistance in all aspects of the business.
And what do you get from MindHub as a franchisee? Let's take a closer look!
An educational platform with a custom-made curriculum
At first, franchisees may have concerns that the IT field is not that familiar to them, but we at MindHub provide our partners with everything they need to conduct programming lessons. This includes a curriculum for children aged 6 to 15, as well as all the necessary teaching materials and instructions for each lesson.
The instructions for the mentors include not only the necessary programming knowledge but also the teacher's methodology and form of conducting the lessons. This methodology helps them understand in detail how each lesson is conducted during the learning process, what approaches each mentor should take, how to react in different situations, and a lot more.
Franchisees are also provided with topics for the various lessons that detail the material, as well as definitions of the program terms that the children will need to learn.
Another great advantage that MindHub provides to its franchisees is the LMS (learning management system), i.e. Administrative system. With it, mentors can manage all groups in the center, children's development is monitored; the system also provides feedback to parents, and you can keep track of all sign-ups and a lot more administrative and organizational activities. Many of the processes are automated, and thanks to the system, you can use that time to invest in the success of the business.
What's more - from MindHub, you also get detailed projects that every teacher can get familiar with in advance - before they are assigned to students. Teachers (we call them mentors) have the difficult task of presenting programming material to children in a way that is interesting so that they both understand the essence of IT and show enthusiasm for the field. With the help of established and working methods that we at MindHub have created over the years, this becomes an easier and more attainable goal.
The materials help the mentors make this happen smoothly and successfully, as the necessary information for each lesson, term, and teaching method is already imparted as know-how.
Proven successful business model
Franchisees can benefit from our extensive knowledge of working with parents and educating children that we have gathered over the years. We will walk them through all aspects of how to run a business and every step they need to take. To ensure that franchisees get the necessary information about this, we conduct a strict series of training sessions where we introduce franchisees to our business model and our products.
During these sessions, they will understand how to establish business relationships with other businesses, how to conduct the lessons and what guidance to give to the mentors they choose, and also how to deal with the IT industry even if they have no previous programming experience.
We also conduct a Programming Basics Training session where we introduce programming in a way that any beginner can understand. We don't put parents in last place either - they need to be made aware of the benefits of programming for children and why they should choose MindHub.
All of this is explained in a separate onboarding session where franchisees can learn how to pitch their business to potential customers. They will learn how to not only win customers for their MindHub Academy franchise but also how to get the right partners, how to successfully run their business, and what vicissitudes they need to be prepared for. This is information that cannot be obtained if you choose to start your own business from scratch. This is exactly why the franchise business model is so successful.
Marketing support and advertising
We know best that for a business to be successful, it needs the right display on the market. How it will be presented, what advertising strategies and marketing methods will be implemented, and how to reach more potential customers to monetize the idea. Therefore, our franchisees are never alone in this endeavor. We know which potential clients to direct them to and what guidance to give them to pitch the business properly.
We provide assistance in choosing a suitable location for MindHub centers in the city where you want to start your franchise. And then we also help with the promotion of the newly opened center - online and offline. This is done by providing our partners with hall branding materials, advertising materials, and marketing techniques to implement.
MindHub training also includes guidance on how to manage social media and how to prepare the right strategies for their growth. We live in a digital age and develop a business that lays the foundations precisely for the technological world; that is why we know how valuable an online presence is. For the franchise to be successful, we provide what we have learned from our experience and share it together with you.
Account Management (Endless Support)
A franchise is a partnership. We will not provide platforms and information about the hubs and how MindHub works and then leave you alone to handle the task of making the business successful. On the contrary, franchisees can expect constant support from us. We aim for all centers to be successful so that our franchise network is also sustainable. That is why we monitor the results of our partners and help them with the preparation of strategies for negotiating partnerships, for organizing events, camps, and thematic workshops.
We also help train mentors so that they are fully prepared for how they can pass on the magic of MindHub. Together with our partners, we also hold bi-weekly sessions where the curriculum and the activities of the center are discussed, workshops are planned, common practices are shared, and administrative and organizational issues are discussed. All this makes us part of the whole process, and our franchisees feel assured of relying on us whenever they need us.
Together in a sustainable partnership
MindHub's franchise program has proven its success over the years, and we welcome those who are brave and enthusiastic to become part of our family. As with any business start-up, you will have to rely on your own organizational and management skills, but for everything else, you will be able to get the support of our team, who will provide everything you need to make the process easier for you.
If this all sounds like a venture you'd like to embark on, check out our franchise application form.