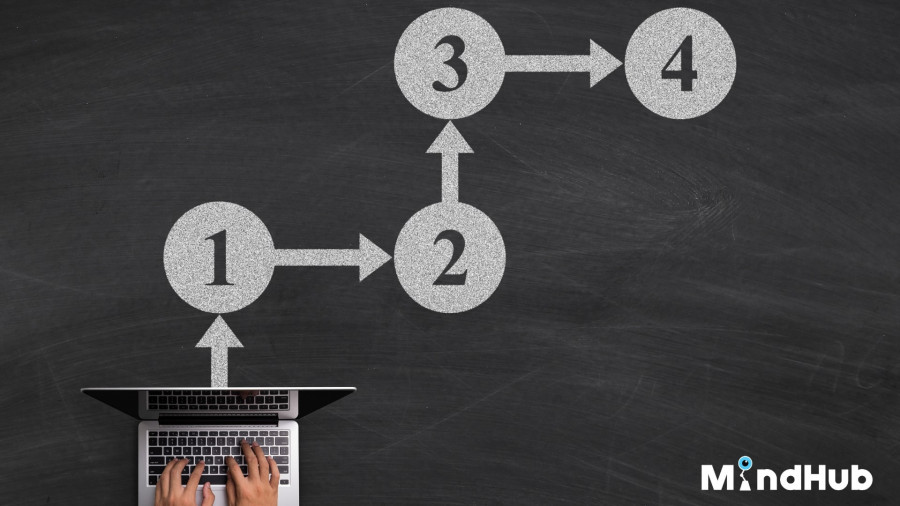 In case you have already got familiar with the franchise services of MindHub, and you have decided that this is the most suitable business model for you, then today we'll share with you exactly what is the step-by-step process for starting a franchise business in Romania!
Step 1: Inquiry
You have probably come across our online ads; someone recommended us, or you have found out about us while looking for franchise opportunities on the Internet. It doesn't matter how you got to know about MindHub; the important thing is that now the first step is up to you!
It doesn't take much to start the process. All you have to do is send your inquiry using our contact form!
Step 2: Start communication
Once we receive your inquiry, a specialist from our team will contact you for an initial call. It aims to provide general information as well as answer technical questions that may have appeared during your research.
At the same time, this will be a good time for us to gather information about you and build a profile so that we can get an idea of ​​your application. Thus, the communication, processes, and additional organizational events will be much easier to implement.
Step 3: Meetings and getting into details
The next part of the process is to get to know the program in detail and get information about the business, products, platforms, software, and the company dynamics. This happens mainly in online meetings and through e-mail communication so that you have everything written if you want to get back to it later.
Part of the process is the preparation of a two-year financial plan for the specific location. This plan is very useful as it shows in detail all the income and expenses. As franchisees, you will be able to get acquainted with the model of work and get an idea of the work of a MindHub center, as well as the financial part of the company.
We will show you visual programming languages for teaching children so that you can understand how easy it is for you to use our programs - both you and the children.
You will also get acquainted with our Learning Management System for performing all administrative tasks in the academy - tracking payments, maintaining a database with all children and parents, training schedule, working with children in groups, and something else extremely important for parents - feedback on children's progress.
You will better understand the parents' profile and its functionalities. You will be able to go much deeper into the specifics of the franchise and get acquainted with the processes that will later become a daily routine for you and your employees.
These online meetings and conversations are extremely important, as you, as future franchisees, will gain a clearer idea of ​​the overall operation of the business and its subtleties. Going into detail and getting to know everything better is important for your success.
Step 4: Offer
It's time for us to provide you with a specially prepared offer based on your needs and requirements and the profile we created for you. You will receive it in writing, by email, and you will have time to review and consider it carefully. The process can continue once you are convinced that it is exactly what you are looking for!
After accepting the offer, there is a conversation with the founders of MindHub and this meeting is part of the selection process. During it, the founders ask questions to the potential franchisee to find out more about his/her profile and approve/disapprove him or her to continue the process.
Step 5: Creating a company
We are aware that it is quite possible that you don't have your own company yet and that it's necessary to open and register one. This process takes about two weeks, and we are here to help with whatever information is needed to make the process easier for you.
Keep in mind that there are no specific requirements for the company's main activity, most often it's registered for training. However, no additional certificates or work permits are required.
The registration of the company for VAT depends mainly on the franchisee. We can only share examples from our practice. For example, some of our partners register for VAT from day one, while others choose to do so only after they reach a higher income (€ 60,000). It depends on you and how you decide to proceed (within the law, of course).
Step 6: Getting the necessary training
Once we go through the agreement process and sign a contract, you, as franchisees, start our detailed online training. It lasts between 4 and 6 weeks. During it, a representative from our account management team conducts thorough training, covering working with our products, platforms, and software.
The training will be the most valuable stage for you in the whole process of starting a franchise business! It will also include knowledge focused on the company's business development, marketing strategies, good and successful practices, as well as how to work with children and everything you need to start your academy successfully!
This training is for you as a franchise owner and for one mentor - your first ally in the adventure. This training is an integral part of the process and is key to the success of the franchise.
Step 7: Select a location and hall
During this time, of course, you don't have to just stand and wait for the training to be over. On the contrary! Take advantage of your time to find (or renovate) the most convenient classroom.
It would be best to find one that is about 35-40 sq.m. and a place where, if you were a parent, you would like to leave your child for 2 hours a week.
This would be the best option for you to determine if a location is appropriate - look around for schools nearby, for large residential neighborhoods, and a well-developed area that will be convenient for parents. We advise you to look for neighborhoods where there is a gathering of families or the city center.
Keep in mind that you, as a franchise,e choose the place, but the franchisor later approves it.
Step 8: Assemble a team
Again, it's important to mention that this is not a step that follows the others but should rather be at the same time as them. Even after signing a contract, the time is right to start looking for mentors for the academy. In most cases, mentors start on an hourly basis, so be open to this type of job.
Here's something else! Often the perfect candidates for these positions are IT students, as their profile exactly matches the demand and their time is flexible. The work of the mentors, in the beginning, is usually about 6-8 hours a week, so you do not need to look for someone to hire full-time.
Of course, if you as an owner want to teach and have the necessary knowledge and skills, this is also perfectly acceptable! The training we conduct before the start is quite enough to start as a mentor, even without previous experience with programming.
One step away from the finale!
These eight steps that we have shared with you are the basics and the beginning of the process of creating a franchise business. It usually lasts between 8 and 10 weeks - from your first contact with us to the start of the academy, of course, according to your commitment and dedication.
About 2-3 weeks before the official opening of the Children's Programming Academy, we will also help with online and offline marketing campaigns! We will be with you every step of the way - training, launching, and maintaining a successful MindHub center!
If all this sounds exactly like your best franchise opportunity, don't waste time, but go back to Step 1: Contact us!